What makes tourism sustainable?
The pandemic stopped tourism in its tracks across the world. Now that it's getting back on its feet, let's learn the options for starting over in a more forward thinking and conscious way.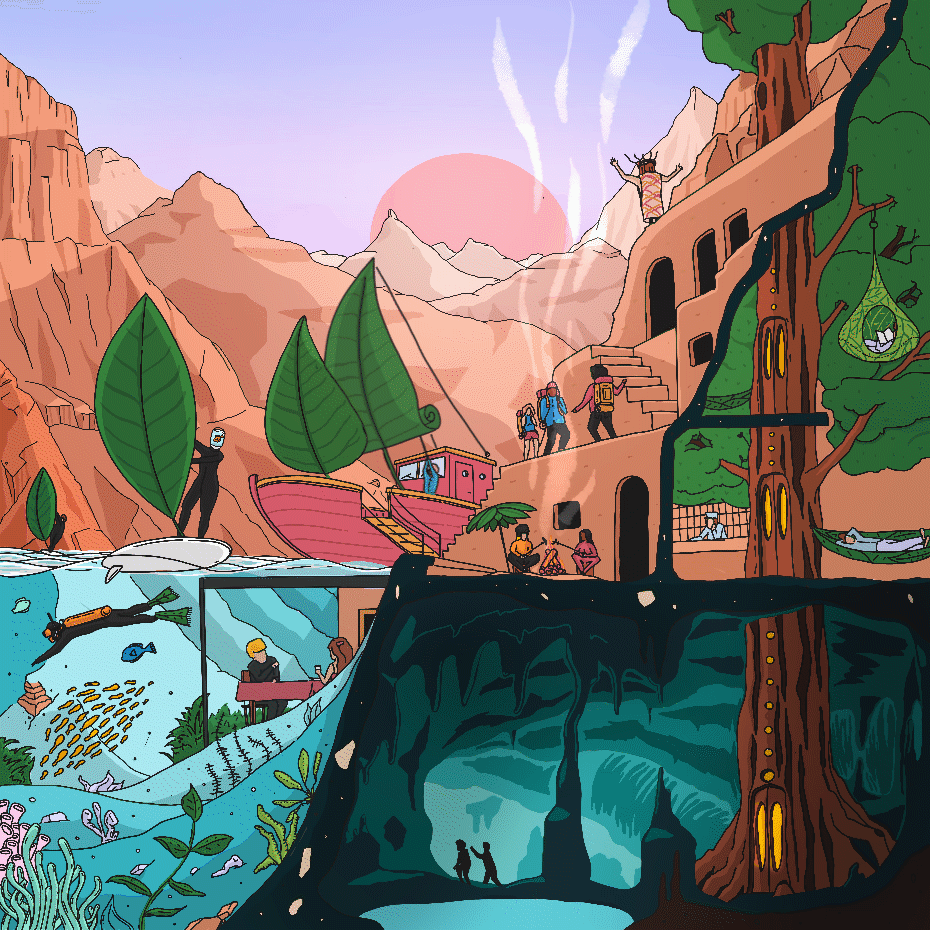 In the Unstuck briefings, we create a curated collection of intelligence on a specific topic that we know is stuck, but for which deeper observation and understanding can start the necessary change. The briefings are always curated by relevant people working in the field who have realised that "business as usual" doesn't work anymore.
---
Illustration by Matej Klíč
1. Why does tourism need a reshuffle?
What happens when one of a country's most promising sectors, previously forecasted for continuous growth, suddenly collapses almost overnight? And worse yet, when it's in the middle of a global health crisis that shows no sign of letting up, and which is directly impacting the sector across the globe, riddling the already rocky path to recovery with further uncertainty.
Despite the economic prowess of the sector, pre-pandemic tourism in many countries was not set up in a way that could thrive long term. Its long-term viability was being jeopardised by the incumbent model of prioritising low-cost, high-volume travel, with profits flowing to a select few while local communities bore the brunt of tourism's negative externalities, and the widespread disregard for the carrying capacities of natural environments was threatening their very survival. 
It's now time to move tourism towards more sustainable models, focused on supporting local communities, preserving the original nature of the localities and respecting the natural environment.
---
2. A key initiative to follow
If you want to see how a shift towards sustainable tourism could happen, follow the activities of this key initiative.
🟢 UNWTO (World Tourism Organisation, A United Nations Specialised Agency) 
The United Nations agency is responsible for the promotion of responsible, sustainable and universally accessible tourism. The UNWTO's activities worldwide are focused mainly on advocating the value of tourism as a driver of socio-economic growth, promoting sustainable tourism development and advancing its contribution to poverty reduction and development. The headquarters of the UNWTO is located in Madrid, Spain, but in collaboration with regional departments it runs development projects in more than 100 countries worldwide. Read more about the organisation and its recent projects.
Read more
---
3. Work on the ground
What's our experience with rethinking tourism? During the pandemic crisis, the UNDP initiated deep dives into the tourism sector in Nepal, Maldives, Thailand and the Dominican Republic, amongst others. See how the UNDP's latest interventions are impacting different parts of the world.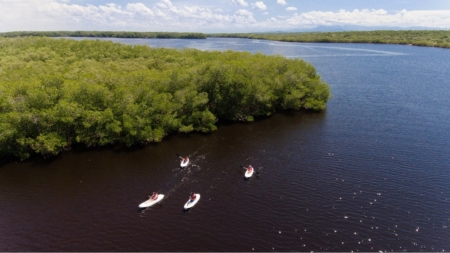 Dominican Republic: From mass-market to a resilient system
During the pandemic, the Dominican Republic – where tourism's direct contribution to the country's GDP is about 7.4% – saw a reduction of around 5.8 million visitors. UNDP's Dominican Republic Country Office (DRCO), together with the Strategic Innovation Unit (SIU) and the Chora Foundation, took it as an opportunity to shift an entire sector towards greater sustainability and develop a system that is socially inclusive, environmentally sustainable and systematically resilient – and thus better able to adapt to unexpected changes. Read more about the Dominican Republic's future-proof tourism portfolio. 
Read more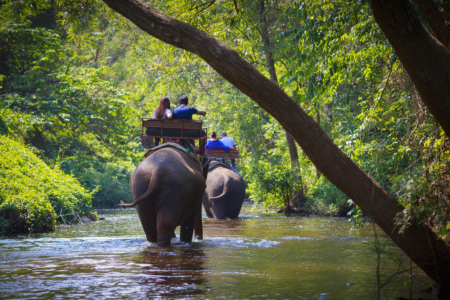 Thailand: Portfolio-based approach for sustainable tourism helps to better address uncertainties whilst also supporting policymaking.
UNDP Thailand, together with the National Economic and Social Development Council (NESDC), has designed a recovery plan for three provinces in Southern Thailand that are considered the key beach destinations – Phuket, Phang-Nga and Krabi. The project was an entry point for introducing the UNDP's portfolio methodology to the NESDC, and demonstrating how designing the portfolio-based approach for sustainable tourism helps to better address uncertainties while also supporting policymaking.
Read more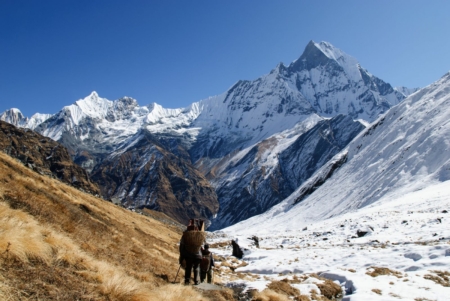 Nepal: Promoting homestays instead of building large hotels
For Nepal, sustainable tourism means protecting the environment and traditional cultural values while creating an economic benefit. This means promoting local indigenous knowledge, and at the same time stimulating tourism so that it could directly benefit locals and the economy – for example, promoting homestays rather than building large hotels or restaurants. Read more insights that came out of the UNDP Nepal's deep demonstration workshops on sustainable tourism.
Read more
Maldives: Diverse and island-specific tourism engaging locals
Tourism in the Maldives is highly dependent on foreign visitors, and that makes the country very vulnerable to external and macroeconomic shocks. Together with the government, UNDP Maldives has been creating an island-specific tourism that is diverse and sustainable. The collaboration is currently focused on local island tourism development through local stakeholders' training, and on crafting sustainable thresholds for tourism development of the local communities. 
Read more
Read more about the UNDP's path to rethinking tourism in Thailand, Nepal and the Maldives on our Medium blog (Part1, Part 2).
---
4. Become familiar with system and portfolio practice
Understand the complexity of meaningful changes and why they can't happen in a short timeframe.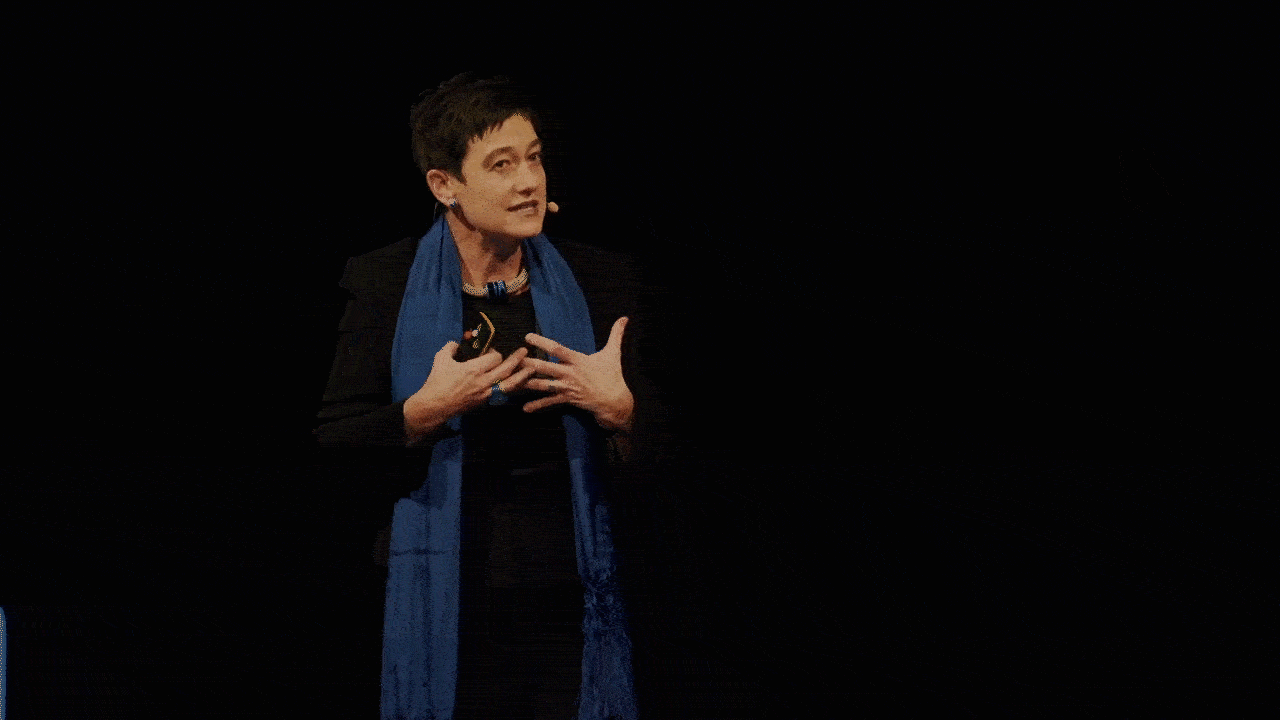 TEDx talk: Innovation as if the future mattered
Chief Executive Officer at EIT Climate-KIC, Kirsten Dunlop, and her introduction to the portfolio approach as the tool for system transformation, resilience and regeneration.
Read more
💻 Webinar: Strategic Covid-19 recovery: a mission-oriented, multi-stakeholder approach to complex challenges
A panel discussion on emergent models and funding for systems change, illustrated using the case of plastics in Indonesia. Understand the complexity of meaningful changes, and why they can't happen in a short timeframe.
Read more
---
5. What to read / watch / listen
🤏🏽 Beginners
💪🏽 Advanced
📚 Book: Overbooked: The Exploding Business of Travel and Tourism

Even though this book was written about 10 years ago, many of its findings are valid in the post-pandemic era. Read the stories from Cambodia, Costa Rica, Dubai or the United States to understand why travel in its mass form is nothing more than a product.
📰 Blog: Responsible travel

The Centre for Responsible Travel (CREST) is a global nonprofit organisation which aims to promote responsible tourism policies. In the organisation's blog you will find all the recent events, studies and activities related to the topic of responsible tourism.
🎙️ Podcast: Sustainable Travel Japan

JJ Walsh is a Japan-based sustainable travel consultant, content creator and guide. In her podcast, she introduces various places in Japan, but mainly she uncovers ideas from experts and examples of best-practices for better travel and tourism.
📜 White paper: Revitalising Thailand's tourism sector

Due to the devastating impact of Covid-19 on Thai economics, the Bank of Thailand prepared a study focused on local tourism that could help them to see forward. The paper is full of interesting data. For example, survey data revealed that tourism demand has evolved towards (1) niche travel: tourists are travelling in smaller groups and seeking more customised experiences, (2) safety-first travel: travellers will avoid crowded attractions and prefer closer-to-home destinations, and (3) digitalisation: technology facilitating contactless and seamless travel will be paramount in the new era. 
💬 Ted Talk: Sustainable Tourism, Authenticity and Identity

Nelida Marqués is a specialist in tourism, marketing and hotel management. In her talk she targets all stakeholders in order to try and encourage a more sustainable and authentic tourism in small islands. Listen to her talk on how to make tourism less devastating.
📜 Study: The Blue Economy–Cultural Livelihood–Ecosystem Conservation Triangle

Have you heard of the Blue Economy (BE)? This concept is recognised as being central for sustainable development that incorporates socio-economic benefits and ecological conservation. Learn more from eight African stories, where BE is more about economic outcomes than social equity and ecological sustainability.
📖 Library: The International Social Tourism Organisation

If you are looking for the most recent reports and studies on various topics related to sustainable tourism, have a look at the International Social Tourism Organisation (ISTO)'s collection of documents. You'll find many useful reports about social tourism, gender equality in tourism organisations, digital accessibility and much more.
---
6. For deeper learning
The following is a list of webinars and discussions for anyone who wants to develop a wider understanding of transformations in tourism.
💬 Panel discussion: Biodiversity conservation financing through sustainable nature-based tourism
In this discussion organised by the Centre for Responsible Travel, four field experts exchange their observations on financing biodiversity conservation and identify potential emerging solutions.
Watch
💬 Discussion: Sustainable tourism blueprints and solutions
Global thought leaders share their proactive blueprints and solutions for sustainable tourism and discuss how we can combat the current challenges together.
Watch
---
7. Radical observations
What are the most mentioned ideas related to sustainable tourism?
🥾 Community–based tourism lets the locals grow
Community-based tourism is considered to be one of the focal points of sustainable and diverse tourism. It enables local organisations to protect precious habitats, preserve unique culture and empower grassroots employees. Community–based tourism can be a great tool for local employment in a natural way, as the community decides on how to protect the culture and environment on which it depends. So, the community benefits, the environment and local culture is safeguarded, and the resulting economic benefits stay within the community.
Read more
🥾 What does it mean to travel sustainably? Tourists don't know.
Travellers play a huge role in protecting the balance of the natural world. However, sustainability is not a quick solution that can be done immediately; especially when there are some tricky greenwashing parts. According to a National Geographic survey in 2019, while 42% of travellers would be willing to prioritise sustainable travel in the future, only 15% of them knew what sustainable travel actually meant.
Read more